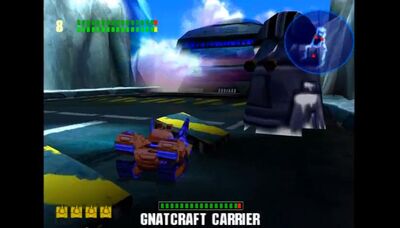 | | |
| --- | --- |
| Hero or Villian | Villian |
| Appears in | The Frozen Lake |
| Exits in | N/A |
| Famous Line | N/A |
Template:Mainonly
The Gnatcraft Carrier is used by SenTrax for shipping Nanometal by sea to the Railgun Launcher then to Mutanks Fortress.
In the mission, Tiny must destroy it to make sure that its destroyed. The carrier contains 2 guns that cannot be destroyed. The only way to defeat this boss is to shoot the gnats that are flying to defend the carrier.The gnats will crash into the carrier and blow it up.
Ad blocker interference detected!
Wikia is a free-to-use site that makes money from advertising. We have a modified experience for viewers using ad blockers

Wikia is not accessible if you've made further modifications. Remove the custom ad blocker rule(s) and the page will load as expected.